The FIFA Video Game Ranking of Cristiano Ronaldo Is at Its Lowest Point in 16 Years
Publication date: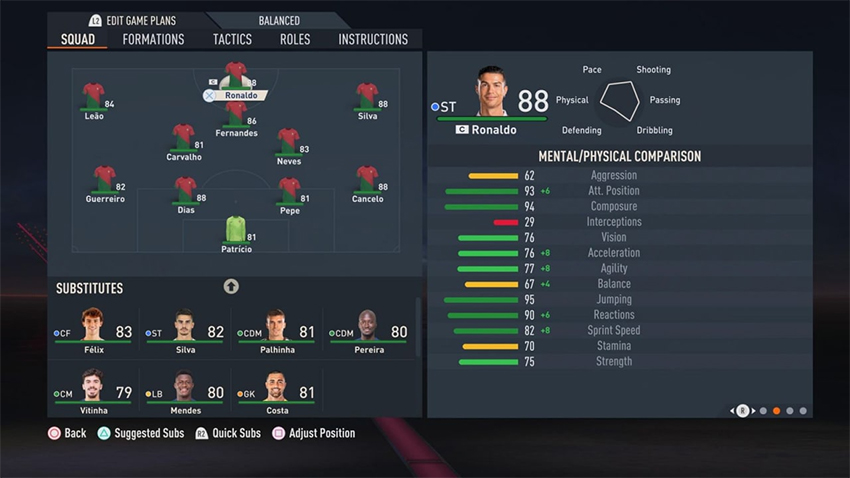 As if Cristiano Ronaldo's early elimination from the 2022 FIFA World Cup in Qatar and the public dispute with Manchester United weren't awful enough, the 37-year-old male footballer's score in the well-known video game FIFA has fallen to 88.
It hasn't been so low since EA Sports, the creator of FIFA 07, set his number at 87. Ronaldo received a 90-star rating at the start of the season in FIFA 23, the final installment in the venerable series, following a campaign in which he scored 18 Premier League goals for United.
His reputation has, however, taken a hit since the current season got underway as a result of his fallout with the club's new manager, Erik ten Hag, who marked the end of his second stint at Old Trafford.
Ronaldo's Finish of 2022: Heated Interview, Failed WC Campaign, and Record-Breaking Signature in Middle East
After a heated interview with Piers Morgan (for the Piers Morgan Uncensored television program, broadcast on TalkTV) in which he claimed to feel "betrayed" by his club and to have "no respect" for the Dutch coach, the Portuguese quit the team.
A few weeks later, Ronaldo traveled to Qatar for the World Cup with his national team, Portugal, who lost to Morocco in the quarter-finals, by which the African side created a new chapter of football history.
Ronaldo is now the best paid footballer in history after joining the Saudi Arabian football club Al-Nassr in the first days of 2023, where his stated yearly pay is £160 million. He claimed that after he "won everything" in Europe (and he did: Ballon d'Or award five times, UEFA Champions League five times, as well as numerous Premier League, La Liga, and Serie A championships), he joined the football team from the Middle East.
After a contentious breakup with Manchester United in November, Ronaldo said he had rejected numerous prestigious clubs and instead decided to sign a contract with Al Nassr that would last until 2025.
Although Ronaldo was scheduled to make his Al-Nassr debut on January 5, he got suspended because he hasn't yet completed a two-match FA suspension. After knocking a phone out of an Everton supporter's hand while playing for United, Ronaldo received a penalty. According to FIFA rules, sanctions levied by one federation apply to another. Also, an exceeded number of foreign players is one more thing that stops Ronaldo from making a debut for his new club.
All in all, the Portuguese star's first appearance for Al-Nassr will now have to wait longer so will the team's supporters. Ronaldo is actually slated to make his long-awaited debut on January 19 against his arch-rival Lionel Messi in an exhibition match with PSG in Riyadh. It will be interesting to see the odds of online bookmakers with betting bonuses on which of these two megastars will score first in this match.
It's Not All Bad for Portuguese Star in FIFA 23
Even with his modest decrease, Ronaldo will still overtake Al Nassr's greatest player in FIFA 23 right away. But, as we said, his FIFA rating has dropped below 90 for the first time in ten years; in FIFA 11, it was at 89.
The series ends with FIFA 23, and EA Sports is now focused on developing its own titles after abruptly announcing its breakup with FIFA after nearly 30 years. FIFA has stated that it will collaborate on the next games with other publishers, studios, and investors. The developer's new franchise will be called EA Sports FC.