2022 World Cup Records in Week 2: Messi Keeps Breaking Them and Is on Verge of Breaking Few More
Publication date: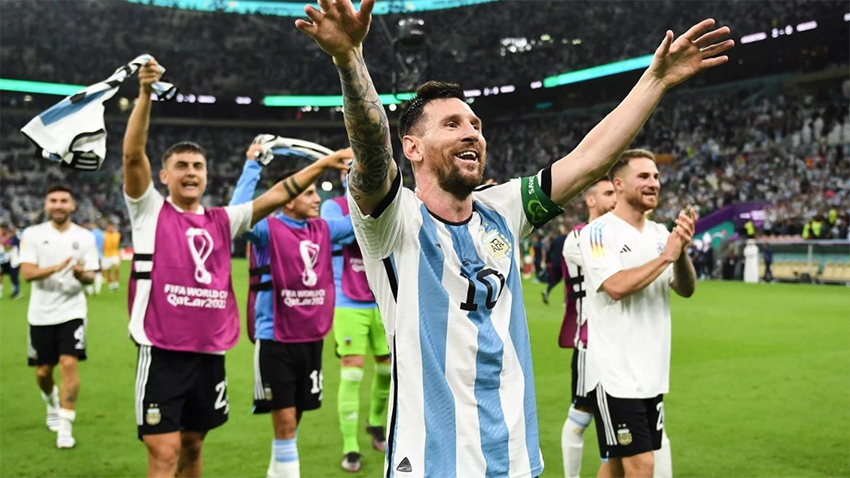 No matter how far Argentina advances in this year's men's football World Cup, Lionel Messi has already cemented his place in its annals. What records has he broken, exactly? What else could he possibly break?
The World Cup is the pinnacle of international football for superstars like Messi. At age 35, this event in Qatar might be the last time we see the Argentine play for his nation in this competition. His career, which has captivated a generation of fans, won't be entirely defined by these events, but it hasn't prevented one of football's best players ever from trying to make history. Messi has already broken a few records in Qatar, but there are still a lot more that are still up for grabs.
Discover what he has previously accomplished and what he might yet do at the FIFA World Cup 2022 by reading on.
At FIFA World Cup 2022, What Records Has Messi Broken?
Here has already accomplished a few significant benchmarks during his brief stay in Qatar…
Appearances
Argentina's national team history was created when Messi sparked his squad against Poland in the group's last match. The PSG attacker overtook the late Diego Maradona for most World Cup appearances for his nation by playing in his 22nd game.
Maradona played 21 times for the country he led, but the current captain now holds the record. Messi also played in his 23rd World Cup match in the 2-1 victory against Australia in the round of 16.
Assists
Argentina's clash against Mexico on matchday two was a must-win for them after their shocking loss to Saudi Arabia in the tournament opener. Messi stepped up, bearing the dreams of a whole country on his shoulders. He started the scoring with a long-range shot and then helped Enzo Fernández score the game-winning goal.
He'd become the first player to have an assist in five different men's World Cup competitions (2006, 2010, 2014, 2018, and now 2022) thanks to that lay-off for the second goal. But by setting that objective, he also contributed to history in other ways.
He had already scored when he made the pass, making him the youngest and oldest player in World Cup history to do so (against Serbia in 2006 at the age of 18 and now against Mexico at the age of 35).
In football, Messi is the picture of enduring greatness…
What Records Still Await Messi?
A few records are still up for grabs that Messi may claim, but several of them hinge on how far Argentina can advance.
Appearances
German Lothar Matthäus now holds the World Cup appearance record with a total of 25 appearances.
Argentina would need to make it to the semi-finals if Messi wants to match that total in Qatar. Messi will, however, take the lead for games played in this illustrious event if they make it to the final and their no. 10 plays a prominent role. But first comes first: Argentina will have to eliminate the Netherlands (December 9) in the quarter-finals, and they are only slightly bigger favorites in the match, for now, looking at the odds of top bookmakers for betting on World Cup 2022.
Captaincy
Although Messi has already surpassed Maradona once, it's still possible for him to do so in a few more statistics.
The late great led his country with an armband in the World Cup 16 times, and Messi led Argentina for the 14th time in this competition this Saturday against Australia. He'll tie Maradona with a semi-final appearance, and should his squad get to the final, he will be the team's 17-match captain.
Goals & Assists
Gabriel Batistuta is currently in charge of the Argentine marksmen, having scored 10 goals in multiple World Cup competitions.
Messi may never surpass Miroslav Klose's 16-goal tournament record, but Batistuta's is a much more doable feat. With nine goals already under his belt after scores against Saudi Arabia, Mexico, and Australia, the star player of 'La Albiceleste' needs just two more in Qatar to create history for his country.
But he's also a creator as well as a goal scorer. And at the moment, he's aiming for yet another Maradona record. With eight assists, the 1986 champion of the world tops the statistics, but Messi is gradually catching up, coming in second with six. There is a good probability that Messi will write his name in the football record books for many records on December 18, 2022, should Argentina advance to the final.
Other World Cup 2022 Records in Second Week
We've already delved into various records set during the first week of Qatar's World Cup. The second week of the competition which included the finish of the group stage and the beginning of the knockout stage saw a few more milestones.
World Cup history is created as both teams had zero shots on goal in the scoreless draw between Uruguay and South Korea. Having not a single attempt toward the target hasn't ever happened before in the event.
During Costa Rica's Group E encounter versus Germany, Stéphanie Frappart of France made history by becoming the first woman to serve as the game's referee in a men's World Cup final tournament event. In the match at the Al Bayt Stadium, Frappart, 38, led the first all-female refereeing crew in a men's World Cup together with assistants Neuza Back from Brazil and Karen Díaz from Mexico.
When he turned away Messi's first-half penalty attempt against Argentina on Wednesday, Poland goalkeeper Wojciech Szczęsny tied a 20-year-old World Cup record. He stopped two penalties in the same event, becoming the first goalie to do so since Brad Friedel of the United States in 2002. In Poland's 2-0 victory over Saudi Arabia before that, the 32-year-old goalie also rejected a shot from Salem Al-Dawsari.