Long-Awaited Transfer Completed: Messi Introduced by Inter Miami to Packed Stadium
Publication date: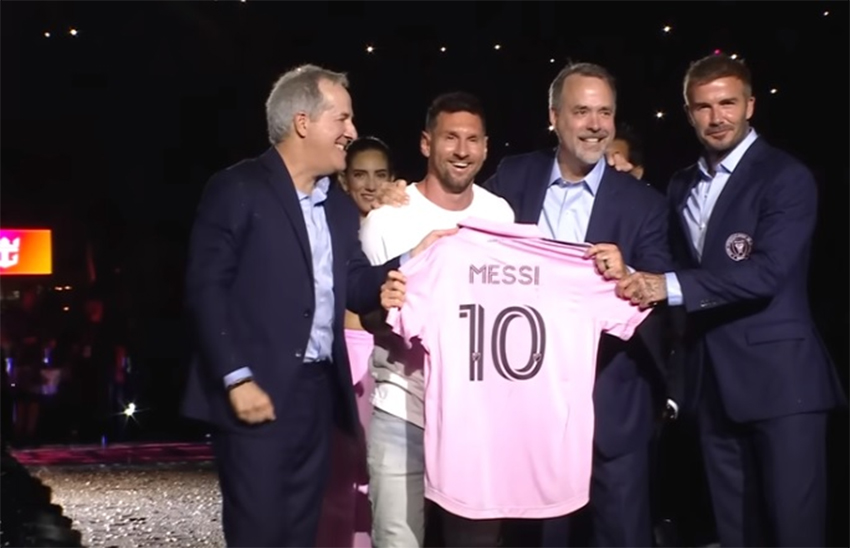 New signature at Inter Miami's DRV PNK Stadium, Lionel Messi, was formally introduced to the Florida crowd amid applause as the long-awaited transfer that rocked the world of men's football was finally completed.
A 20,000-person capacity audience endured rain and lightning as they waited to watch the seven-time Ballon d'Or winner receive a number 10 shirt at the US side with the full name of Club Internacional de Fútbol Miami.
Messi, 36, thanked his fans and expressed his "same desire" as always in a brief speech in Spanish. The World Cup-winning attacker from Argentina has signed a contract with the Major League Soccer (MLS) team till the end of 2025. He'll play there with defensive midfielder Sergio Busquets; the Spaniard has also signed for Inter Miami until 2025 and with him, Messi previously played at Barcelona for many years. Busquets has also been formally introduced on the same night.
Messi: "I'm Very Happy to Choose This Project"
Messi was referred to as "America's number 10, the world's best number 10" and entered the field via a large catwalk. He was also greeted by video messages from four-time NBA champion Stephen Curry and seven-time Super Bowl champion Tom Brady.
"I really want to start training, to compete. I have the same desire that I always had to compete, to want to win, to help the club continue to grow. I'm very happy to have chosen to come to play in this city with my family, to choose this project and I have no doubt that we are going to enjoy it a lot. We're going to have a good time and very good things are going to happen," Messi said in front of Inter Miami fans.
MLS commissioner Don Garber claimed that Messi's decision to join the league was a game-changing event and that he believed the signing would proclaim to the entire world that America is a soccer nation. Garber continued that this league has spent so many years becoming a competitor on the world stage "so it's a very momentous night for us."
Messi's signing was welcomed as a "dream come true" by Inter Miami co-owner David Beckham, a member of the English Football Hall of Fame.
Messi Turns Down Lucrative Offers from Other Countries
With a capacity of 18,000, the DRV PNK Stadium in Fort Lauderdale, the temporary home of Inter Miami, is tied for the smallest MLS stadium with PayPal Park in California, home of the San Jose Earthquakes. To accommodate more spectators within the stadium for the unveiling of Messi, a temporary grandstand has been built.
Messi left Paris St-Germain at the conclusion of the 2022–23 season after spending two years there and scoring 32 goals in 75 games. In order to play in the US, he rejected rich offers from other nations; this is the first time he'll play for a non-European team, following the footsteps of the only player to whom he can compare in fame, skill, and trophies during his playing time, Cristiano Ronaldo, who at the beginning of this year decided to popularize football on a different continent, going to Saudi Arabia. Actually, according to sources, Messi received a three-year, $1.5 billion contract offer from the club from a country in which Ronaldo competes, Al-Hilal, in June.
Messi is anticipated to be eligible for Miami's Leagues Cup opener on July 21 against Cruz Azul of Liga MX. After Phil Neville was fired as head coach of Inter Miami in June, Messi's fellow countryman Gerardo "Tata" Martino was named head coach. The two of them are now reunited with one another following a three-year collaboration period between 2013 and 2016 in Argentina National Team and Barcelona. Messi will try to improve Inter Miami's ranking in the MLS as they are nailed down to the last place in Eastern Conference, constantly being underdogs on betting lines of online bookies with betting bonuses.
It's possible that Messi joining Inter Miami will have a similar impact on American football as Pelé joining the New York Cosmos in 1975.