Messi with World Cup Winning Post Becomes Most-Liked Ever Photo on Instagram
Publication date: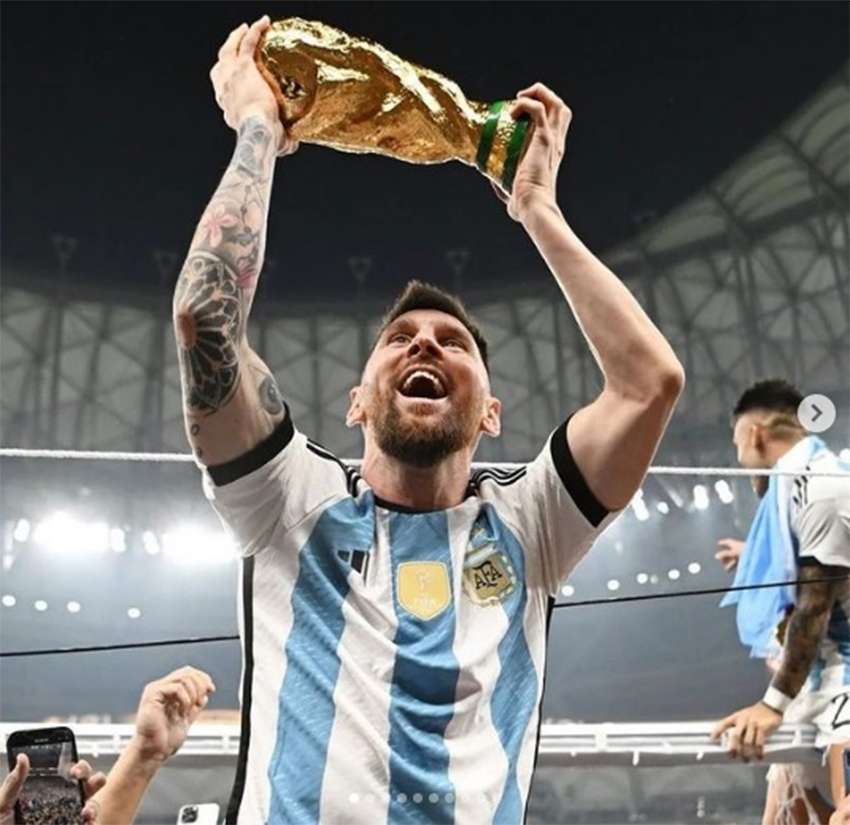 Lionel Messi excels in many different ways. It's not just sports. The 35-year-old male football player celebrated Argentina's World Cup victory with photos that were posted earlier this week on Instagram.
He's shared several pictures in a carousel: one with the prestigious FIFA World Cup Trophy in his hands, the other with his teammates. Messi is also displayed kissing the trophy in the post. At this moment, the post had garnered more than 73 million likes, making it the most-liked Instagram photo. The Argentinian football great's post is also the fastest to 50 million likes on the social media platform.
"World Champions! I dreamed of it so many times, I wanted it so much that I still can't believe it… Thank you very much to my family, to all who support me, and also to all who believed in us," Messi wrote in his record-breaking post.
Messi Beats "Egg Photo"
The moment Messi's post got more than 56 million likes, it officially surpassed the well-liked "egg photo", published by @world_record_egg. Shortly after being published in January 2019 on Instagram, the picture of an egg, uploaded by Chris Godfrey as a social experiment, became the most liked picture. Now, it has 58.5 million likes. Prior to the egg, Stormi Webster, Kylie Jenner's now 4-year-old daughter, topped the list in her first snapshot. About 18 million people liked the photo, which was published five days following Stormi's birth in February 2018.
Seven-time Ballon d'Or winner Messi is also only the second person to have more than 400 million Instagram followers. Before the FIFA World Cup began, he had 376 million followers. Cristiano Ronaldo, an 'arch-rival' of Messi's, presently has 519 million Instagram followers, making him the platform's most popular user. The two legendary football players were recently seen playing chess in a photo together. With almost 40 million likes as of Monday, it was the most popular Instagram post by an athlete.
The top Instagram posts with the most likes also feature Argentine and Portuguese footballers. Messi or Ronaldo appears in seven out of the top nine Instagram postings. Between 2021 and 2022 is the time when all seven posts were uploaded.
After Breaking World Cup's Record for Number of Appearances, Messi Reverses Retiring Announcement
Following his declaration that he has no immediate plans to retire from international football, Messi achieved success on social media. Messi said these things to his nation's media after Argentina's victory in the World Cup in Qatar: "I won the Copa America and the World Cup quickly. I love what I do, being in the national team, and I want to continue living a few more games being world champion."
The superstar's previous remarks about ending his worldwide career were reversed in this announcement. After the squad's semi-final victory over Croatia, according, Messi declared that this would be his final attempt at the World Cup event, sparking rumors that he would leave the national team. "It's my last World Cup," he declared.
Messi's long-awaited first World Cup championship was finally achieved last Sunday, fulfilling a childhood goal: "I was lucky to have achieved everything in this career… and this one that was missing is here. "It's madness".
Messi's possession of the most-liked Instagram images isn't the only significant accomplishment he made last week. With his 26th game in the final against France, Messi reportedly set the record for most World Cup appearances. He scored two goals to help Argentina win a dramatic contest against the former reigning champion that went into overtime and a shootout, bringing much joy to those punters who made the decision to bet on 'La Albiceleste' at online bookies with deposit bonuses.
Messi's first World Cup victory has finally happened, albeit Argentina's last weekend triumph was its third overall. In 1978 and 1986, they previously won the FIFA competition.