World of Football Is in Great Mourning: Icon of Sport Pelé Dies at Age of 82
Publication date: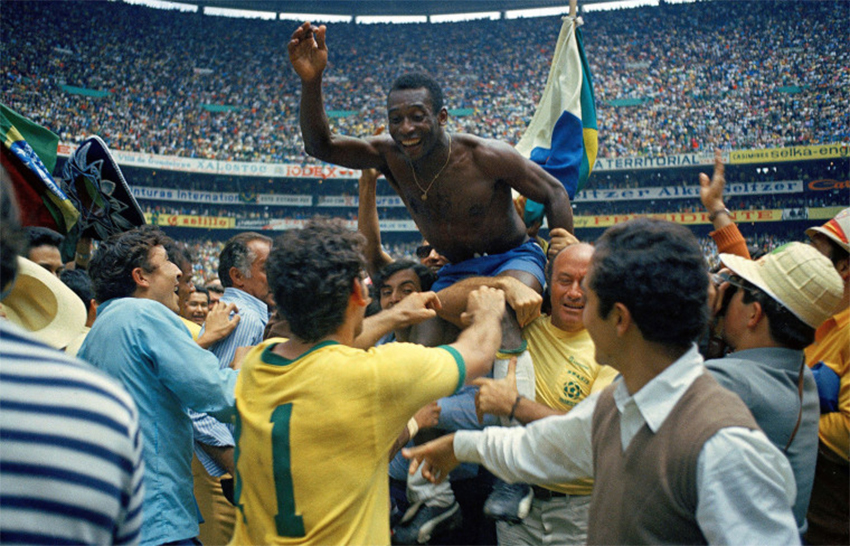 The first global symbol of football, Pelé, a Brazilian hero who won three World Cups, has passed away at age 82.
Late in November, Pelé was hospitalized in São Paulo with complications from colon cancer and a respiratory infection. His health had gotten worse as his malignancy got worse, the hospital reported last week. According to a statement from "Albert Einstein Hospital", he passed away on Thursday as a result of multiple organ failures brought on by the advancement of colon cancer.
Football has been associated with Pelé for more than 60 years. The only player in history to participate in four World Cups and win three of them, he left a lasting impact that went far beyond his collection of awards and exceptional goal-scoring stats.
Pelé famously remarked, "I was born to play football, just like Beethoven was born to write music and Michelangelo was born to paint."
According to a statement released by his former club Santos FC, a public wake for Pelé will be placed on Monday, January 2, at the Urbano Caldeira Stadium, popularly known as "Vila Belmiro" and home to Santos, in Brazil's São Paulo state.
Current and Former Football Stars Pay Tribute to Pelé on Social Media
Many sportspeople have paid tribute to the legendary soccer player on Instagram and other social media. Santos, Pelé's first team, tweeted "Eternal" along with a picture of a crown in response to the news.
One of the biggest world football stars of today and Pelé's fellow countryman, Neymar, claimed Pelé "changed everything". He posted: "He turned football into art, into entertainment. He gave a voice to the poor, to black people, and especially: he gave visibility to Brazil. Football and Brazil have raised their status thanks to the King!"
The late Pelé was "the king of football, (who) has left us but his legacy will never be forgotten," according to Paris Saint-Germain's and France National Team's player Kylian Mbappé.
Portuguese striker considered the best footballer along with Lionel Messi at the moment, Cristiano Ronaldo, expressed his sympathies to the Brazilian legend and football, writing that "a mere 'goodbye' to the eternal King Pelé will never be enough to express the pain that currently engulfs the entire football world."
Pelé's body will be transported from the "Albert Einstein Hospital" to the stadium at sunrise on Monday. The casket of the late football great will be positioned in the middle of the pitch. Tuesday, January 3, at 10 a.m. local time, the wake at "Vila Belmiro" will conclude. Following that, a funeral procession will transport Pelé's casket through the streets of Santos, including the avenue where Pelé's 100-year-old mother, Celeste Arantes, lives. The funeral procession will continue to the "Memorial Necrópole Ecumênica" cemetery in Santos, where a private service will be held just for family members.
The Career of Pelé
Before his family moved to Bauru in São Paulo, Pelé (birthname Edson Arantes do Nascimento) was born in 1940 in Três Coraçes, an interior city some 155 miles northwest of Rio de Janeiro.
Even the football player himself is unsure of where the moniker Pelé came from. He once said to the British publication The Guardian that it probably began as a result of schoolmates making fun of him for mispronouncing another player's nickname, Bilé. Whatever its beginning, the name stuck.
His earliest experience with football as a boy consisted of playing barefoot with socks and rags rolled into a ball; this humble beginning would blossom into a lengthy and successful career.
But when he initially started playing, he had low expectations. Pelé stated to CNN in 2015 that his dad was a brilliant football player, scoring a lot of goals: "His name was Dondinho; I wanted to be like him. He was famous in Brazil, in Minas Gerais. He was my role model. I always wanted to be like him, but what happened, to this day, only God can explain."
Before turning 16, Pelé left home and started training with Santos. He soon scored his first goal for the team. Over the course of his 638 club appearances, he would score 619 goals, but he's best known for his achievements while wearing Brazil's recognizable yellow jersey.
When Pelé made his World Cup debut at the age of 17 in 1958, the world first caught a peek at his incredible talent. He scored Brazil's lone goal in the nation's triumph over Wales in the quarter-finals. He then scored a hat-trick against France in the semi-finals, and two goals against host nation Sweden in the championship game.
A second World Cup triumph occurred in 1962, but Pelé missed the latter portions of the competition due to an injury. His subsequent campaign in 1966 was plagued by additional ailments as Brazil was eliminated after the group stage, but redemption came in 1970.
This team, which included players like Jairzinho, Gerson, Tostão, Rivellino, and, of course, Pelé, is thought to be among the best ever put together. Brazil's 4-1 triumph against Italy in the World Cup final featured what is possibly the most famous tournament goal of all time, a sweeping move featuring nine of the team's 10 outfield players. Carlos Alberto hammered the ball into the bottom corner of the net after Pelé set him up to do so. Never has the Brazilian motto "jogo bonito" ("beautiful game") been more perfectly captured.
In the 1970 World Cup final and throughout the entire tournament, Pelé scored a goal of his own. Prior to the competition, he had thought about calling it quits. Pelé's World Cup career was concluded by the competition, but not his time in the spotlight. He agreed to a $1.67 million contract with the New York Cosmos in 1975.
The Legacy of Pelé
Before he officially retired from football in 1977, Pele helped the Cosmos win the North American Soccer League championship with his outgoing personality and exceptional dribbling skills, which were a trademark of his game.
Giorgio Chinaglia and Franz Beckenbauer were added to the league's signings, but it wouldn't continue, dissolving in 1984. Regardless, Pelé's influence persisted throughout the world.
He continued to be well-known thanks to sponsorship deals and his vocal political advocacy for Brazil's underprivileged. He worked for many years as a UNICEF Goodwill Ambassador, advocating for peace and aid for young children who are at risk.
Much of Pelé's later life was characterized by ongoing health issues. He used a walker to help him get around, which he was seen dismissively throwing around in a documentary that was released last year. In September 2021, he had surgery to remove a tumor from his right colon.
Over the previous year, Pelé received ongoing cancer therapy. While the 2022 World Cup was being held in Qatar in November, he was hospitalized in São Paulo, sparking an outpouring of solidarity from the football community worldwide.
Pelé's most significant individual awards include FIFA World Cup Best Young Player in 1958, Ballon d'Or winner seven times (1958, 1959, 1960, 1961, 1963, 1964, 1970), Copa Libertadores Top Scorer in 1965, FIFA World Cup Golden Ball (Best Player) in 1970, South American Footballer of the Year in 1973, FIFA Order of Merit in 1984, World Team of the 20th Century in 1998, Football Player of the Century, elected from Ballon d'Or Winners in 1999, South American player of the century by the IFFHS in 2000, and FIFA Player of the Century in 2000.
Pelé's most significant club and national team awards include Copa Libertadores winner twice (1962, 1963), Intercontinental Cup winner twice (1962, 1963), Intercontinental Supercup in 1968, and FIFA World Cup winner three times (1958, 1962, 1970).
Best-Ever…or Not?
Whether it's possible to compare Pelé's accomplishments to those of Ronaldo or Messi, who have rewritten sport's record books over the past 15 years, or to Diego Maradona, the late Argentinean star who enthralled the footballing world in the 1980s and 1990s, will undoubtedly be the subject of heated debate. It could be something of a market for football's top bookmakers. We're sure it would raise the interest of punters… Although Maradona and Pelé were jointly selected Player of the Century by FIFA in 2000, some believed that the clear victor of the honor should've been apparent.
It's unknown exactly how many goals Pelé scored throughout his career, and his Guinness World Records total has under criticism because many of them were scored in unofficial contests. He complimented Portugal's Ronaldo in March 2021 for surpassing his "record of goals in official matches", which stood at 767.
However, there's little question that Pelé was and always will be football's first international icon.