Messi Receives Best FIFA Men's Player Honor, While Putellas Is Named Top Women's Player of Year
Publication date: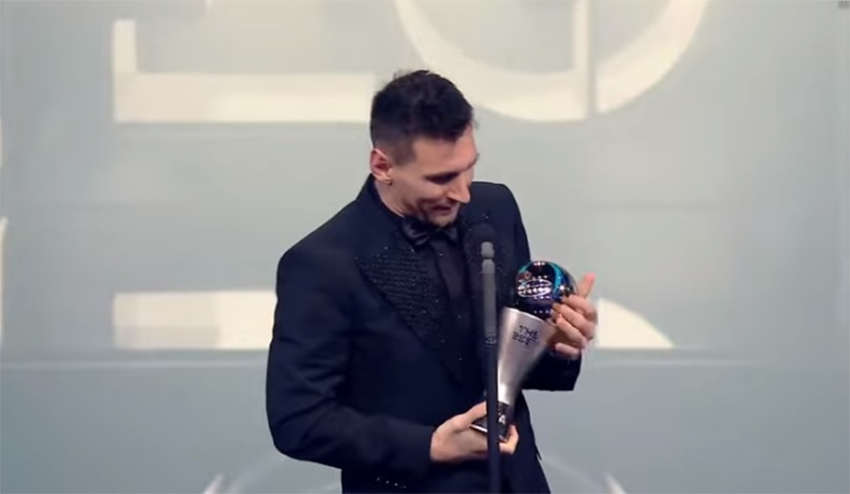 The 2022 Best FIFA Awards have recognized Lionel Messi of Argentina and Paris St. Germain as the male football player of the year.
Women's player of the year was awarded to Alexia Putellas of Barcelona.
Both Messi and Putellas Receive Honors for Second Time Each
Messi, who received the honor for the second time, said: "It's amazing. It's been a tremendous year and it's an honor for me to be here and win this award. Without my teammates, I wouldn't be here. I achieved the dream I had been hoping for, for so long. Very few people can achieve that and I have been lucky to do so."
The 35-year-old won the award ahead of French attackers Kylian Mbappé and Karim Benzema. Messi scored 27 goals in 49 games for the club and country in 2021–22 as he led Argentina to a World Cup victory in Qatar.
Putellas earned the player award for a second consecutive year after scoring 34 goals in the previous year. The 29-year-old won the award ahead of American international Alex Morgan and England striker Beth Mead. The latter two were sidelined by knee injuries and missed Euro 2022.
Scaloni and Wiegman Win Coaches Accolades
Lionel Scaloni, who guided Argentina to their third World Cup victory, which is the outcome many had doubts about after their shocking defeat from Saudi Arabia in the opening (which was so against the odds of bookmakers with Android apps that it was inexplicable), was voted men's coach of the year at the ceremony in Paris. He won the award ahead of Carlo Ancelotti of Real Madrid and Pep Guardiola of Manchester City, who led his team to the Champions League trophy and a sixth consecutive Premier League triumph, respectively.
Sarina Wiegman, the head coach of England, won the title of women's coach of the year after guiding the "Lionesses" to their first major victory at home in the European Championship last year.
Emiliano Martínez of Aston Villa and Argentina received the title for the best male goalkeeper, and Mary Earps of England took home the prize for the best female goalkeeper.
Martínez, 30, contributed to his nation's victory in the World Cup in Qatar by saving four penalties along the way, including one in the final shootout victory over France. Upon accepting his prize, he said: "They always ask me who my idols are or who I watched when I was a kid… watching my mum clean buildings for eight or nine hours and watching my dad work. They are my idols."
Earps, a Women's Super League player for Manchester United, started each of England's six Euro 2022 games en route to the team's championship. "For anyone who has been in a dark place, just know there is light at the end of the tunnel, so keep going. You can achieve anything that you set your mind to," she stressed.
The FIFA Puskás Award went to Polish team Warta Poznań's amputee football player Marcin Oleksy for scoring the year's best goal. He used his crutches to propel an incredible overhead volley against Stal Rzeszów into the goal.
The winner of the fair play accolade was Luka Lochoshvili, who rushed to the aid of his opponent Georg Teigl after the midfielder had lost consciousness in order to preserve his life. During the Austrian Bundesliga match between Austria Wien and Wolfsberger, last February, Lochoshvili held Teigl's tongue, preventing him to suffocate.
FIFA FIFPRO Men's World 11: Thibaut Courtois, Achraf Hakimi, Virgil van Dijk, João Cancelo; Kevin de Bruyne, Luka Modrić, Casemiro; Lionel Messi, Erling Haaland, Karim Benzema, Kylian Mbappé.
Full list of winners:
The Best men's player: Lionel Messi
The Best women's player: Alexia Putellas
The Best men's goalkeeper: Emiliano Martínez
The Best women's goalkeeper: Mary Earps
The Best men's coach: Lionel Scaloni
The Best women's coach: Sarina Wiegman
The Puskás award: Marcin Oleksy
The Best fan award: Argentina fans
The Best fair play award: Luka Lochoshvili