NFL Suspends 5 Players, 3 of Which for the Whole Season, for Gambling Offenses
Publication date: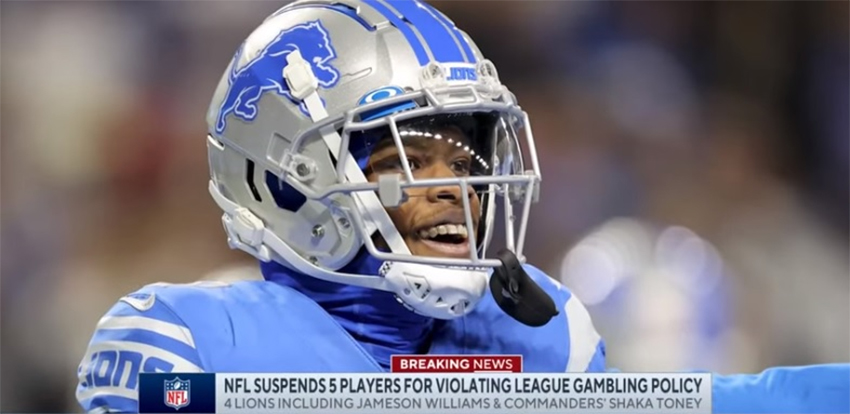 Jameson Williams, a first-round choice of the Detroit Lions last year, was one of the five players the men's NFL suspended for breaching its gambling rules. The organization governing American football's top competition made the announcement on Friday in regard to the incident.
For their acts, Williams and Stanley Berryhill were given six-game penalties. Both players are available to participate in preseason games as well as the team's off-season training regimen. Quintez Cephus and C.J. Moore received indefinite suspensions from the NFL. At the very least, both players were suspended for the full 2023 NFL season. After the 2023 NFL season, they may submit an application for reinstatement. Following their suspension, the Lions terminated Cephus' and Moore's contracts.
In a statement to NFL's official website, Lions general manager Brad Holmes acknowledged the roster changes:
"As a result of an NFL investigation, it came to our attention that a few of our players had violated the league's gambling policy. These players exhibited decision-making that's not consistent with our organizational values and violates league rules. We've made the decision to part ways with Quintez and Moore immediately. We are disappointed by the decision-making demonstrated by Stanley and Jameson and will work with both players to ensure they understand the severity of these violations and have clarity on the league rules moving forward."
Shaka Toney, a defensive end for the Washington Commanders, was also given an indefinite suspension by the NFL for breaking the rules on gambling. After a year, he, Quintez, and Moore may petition for reinstatement, notwithstanding Detroit's announcement that its two players had been discharged.
NFL Fails to Provide Full Explanation on Causes of Players' Suspensions
The suspensions' causes weren't fully explained by the league. The league made it clear in the situations of Cephus, Moore, and Toney that those players wagered on NFL games during the 2022 season. It wasn't made clear why Berryhill and Williams were put on a shorter leave.
According to NFL policy, players and staff aren't permitted to gamble in any club or league facility or venue, including the practice field. According to reports, Berryhill and Williams wagered on college football games, but they did it at an NFL venue. Each placed a mobile wager, presumably using some of the operators offering no deposit bonuses, on events that took place at the Allen Park Lions facility.
According to the team, these two didn't wager on NFL games. After conducting an inquiry, the NFL asserted that "no evidence indicating any inside information was used or that any game was compromised in any way" had been discovered. Before the NFL made a decision, the Lions were made aware of the investigation around a month ago.
In addition to these sanctions, other Lions employees from a number of areas were fired last month for breaking the team's no-gambling policy. Additionally, the Commanders issued a statement confirming that they were informed of Toney's suspension.
Williams Considered One of Biggest NFL Prospects
Williams, who played for Alabama in the 2021 College Football Playoff championship game and was limited to six games as a rookie due to an ACL tear, has generated enthusiasm as he approaches his second season.
Williams showed flashes of his playmaking potential in a limited role for the Lions in 2022 after they traded up to select him at No. 12 overall. On his lone reception in his rookie campaign, Williams scored a 41-yard touchdown against the Minnesota Vikings.
He recently participated in throwing workouts with numerous Lions teammates and quarterback Jared Goff in California to build camaraderie. Additionally, he attended this week's Lions' voluntarily scheduled off-season practices.
One Year Ago, NFL Suspended Calvin Ridley for Same Reasons
For the second consecutive season, the NFL has imposed gambling suspensions. Calvin Ridley, a receiver for the Jacksonville Jaguars, was banned from all NFL games for the entire 2022 season, in November 2021. When he allegedly placed a wager on a game, Ridley was a player for the Atlanta Falcons and was absent from the team due to illness.
At the NFL trade deadline, while Ridley was out on suspension, the Falcons dealt him to the Jaguars. After the 2022 NFL season, Ridley submitted an application for reinstatement, and the NFL granted his request. After being reinstated, Ridley declared he was eager to resume his career in Jacksonville.
More tips on American football