Late-Game Magic from Mahomes Helps Chiefs Top Eagles and Win Super Bowl LVII
Publication date: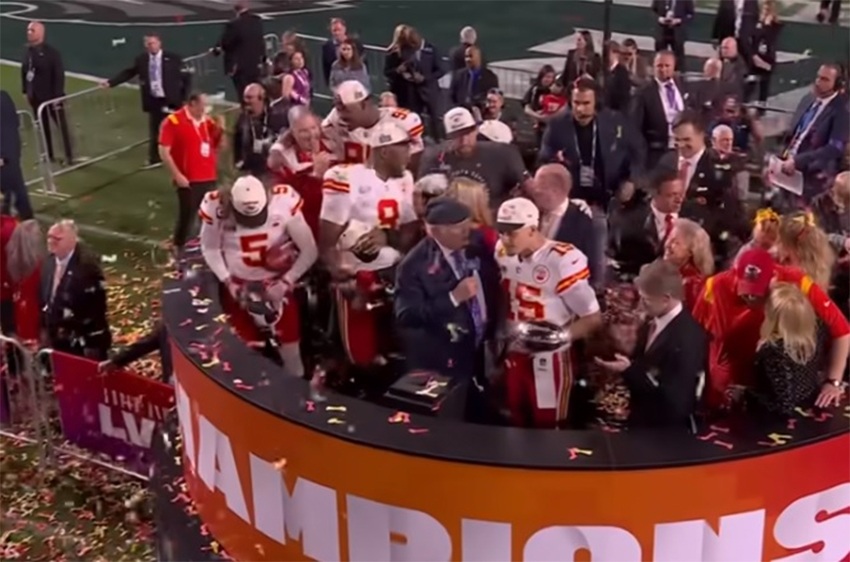 Patrick Mahomes completed the task on one leg. A second Lombardi Trophy for the current NFL MVP is his prize, in addition to resting an ankle that has been damaged frequently this postseason.
It was the Kansas City Chiefs' (14-3-0, 1st in West, 1st in AFC) second championship in four years as they defeated the Philadelphia Eagles (14-3-0, 1st in East, 1st in NFC) 38-35 in men's American Football's Super Bowl LVII at State Farm Stadium in Glendale, Arizona. They beat the odds of bookmakers with Android apps. Harrison Butker's 27-yard field goal with eight seconds left gave the Chiefs the chance to run down the time and secure the victory after a contentious holding call by Eagles cornerback James Bradberry.
Mahomes completed 21 of 27 passes for 182 yards and three touchdowns. After trailing 24-14 at the half, Kansas City scored on its opening three drives of the second half.
Jalen Hurts, the quarterback for the Eagles, completed 27 of 37 passes for 304 yards, but he was strong on the ground. He had 15 carries for 70 yards and three scores on the ground, and with about five minutes remaining, a two-point convert tied the score at 35.
On the greatest stage of the game, Chiefs tight end Travis Kelce (six catches, 81 yards, touchdown) overcame Eagles center (and also his sibling) Jason Kelce, while Chiefs head coach Andy Reid triumphed over his former team.
Mahomes on His Way to G.O.A.T.
It's comparable to seeing Michael Jordan at his best. At 27, Patrick Mahomes. He has a deal that benefits the team. The Chiefs have advanced at least to the AFC championship game in each of the five seasons he has been the starter. This will be the norm as long as Mahomes remains at the center. Days after winning his second league MVP, he earned his second Super Bowl MVP.
Late in the second quarter, as the Eagles' T.J. Edwards hauled Mahomes to the ground, Edwards tripped over his right ankle, reinjuring it. After the setback, Mahomes only managed to complete 13 of 14 throws for 93 yards and two touchdowns. As if that weren't enough, he outran the Eagles' defense on a 26-yard rush with 2:55 left in a tie game to set up the game-winning field goal.
Eagles Collapse After Halftime
At halftime, Rihanna performed in front of the crowd while the Philadelphia Eagles held a 10-point advantage. However, Philadelphia's advantage vanished in the second half as if carried away by magic.
In a thrilling 38-35 victory in Super Bowl 57, the Chiefs overcame a halftime deficit of 24-14 by scoring 24 points in the second half, including 17 in the fourth quarter.
Are Chiefs and Mahomes NFL's Upcoming Dynasty?
Facts:
Mahomes, the quarterback for the Kansas City Chiefs, has won the Super Bowl already two times in his career and was named Super Bowl MVP both times.
The Kansas City Chiefs, who have won the Super Bowl twice in the last four seasons, appear to be eager to start preparing for their next foe.
But call this the beginning of a dynasty…?
You might refer to it as a dynasty or anything else you like. All we know is that they'll be back the following year. We can tell you right now that they are keen to attempt to acquire another Lombardi Trophy.
More tips on American football