Nobody Like Danes: Scandinavians Become Men's Handball World Champions for Third Time in Row
Publication date: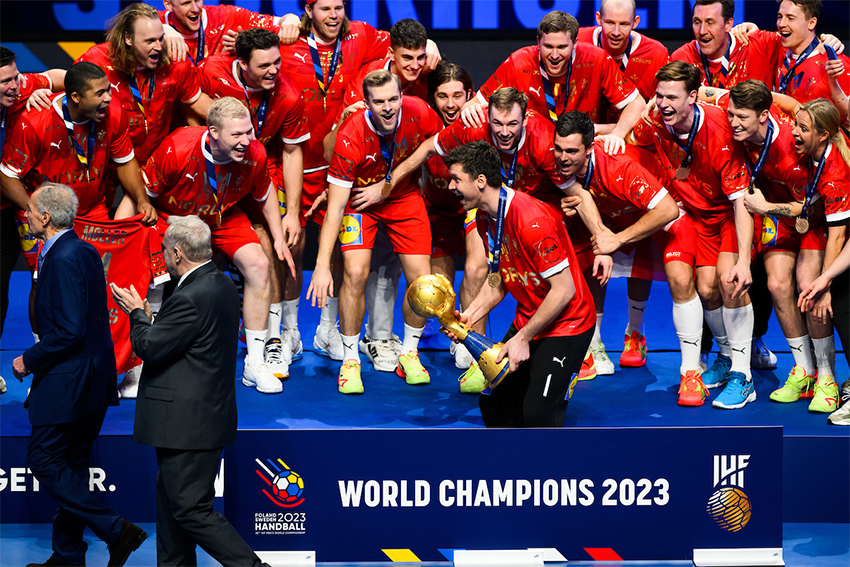 With a convincing victory over France in front of 23,000 spectators in the Tele2 Arena in Stockholm, Sweden, with a score of 34-29, Denmark became the first national team in history to win the IHF Men's World Championship trophy three times in a row.
Rasmus Lauge Schmidt's 10-goal performance and Simon Pytlick's nine-goal performance were instrumental in helping Denmark win its seventh medal in the most prestigious men's handball event on the planet.
It was a match that would always be recognized for its significance. Because there's no other way to phrase it, the 2023 IHF Men's World Championship final at the Tele2 Arena in Stockholm was going to make history.
France had an opportunity to win the competition for the eighth time, while Denmark had a chance to make history by winning the championship three times in a row. The key question, then, was straightforward: who would get to hold the prized trophy above their heads at the conclusion of this match, which was a do-or-die duel to determine the new ruler of the world? The best betting sites in Scandinavia were clear that their beloved Denmark was the favorite.
Course of Match
The answer to the question above would have been rather straightforward if it had been given after five minutes. Denmark was set to win the competition and extend their record unbeaten streak at the IHF Men's World Championship to 28 games.
Such was the offensive chemistry between their back players and the outstanding performance of goalkeeper Niklas Landin. It appeared almost impossible to get any other outcome. The defending world champions jumped off to an early 6-2 lead thanks to rookie left back Pytlick's three goals in the first four minutes of his first final at a major event and goalie Landin's two saves on the first three shots.
Well, they say that during the most trying circumstances, a team's strength is tested. What was France to do, though, with their star left back Nikola Karabatić nursing an ankle injury and their starting goalkeeper Vincent Gérard not being able to handle the pressure of a World Championship final?
First and foremost, France, one of the most seasoned teams in the game, exhibited composure. There was no room for panic not even after Guillaume Gille requested a break after just six minutes and observed his team's inaction. Not even after Denmark had pulled up to a five-goal lead (12-7).
Gille has faith in his team and made minor adjustments rather than completely overhauling the lineup. And France truly supplied some terrific handball as Nedim Remili, once right-back turned center-back, started to make an appearance. It was sufficient for them to put additional pressure on Denmark, who had the tiniest of leads going into halftime (16-15).
What was therefore going to be done by coach Nikolaj Jacobsen? To modify something in his squad, he did not hold back. Mikkel Hansen, Denmark's talisman at left back, was left on the bench to start the second half after not contributing much. And for a time, it appeared that this decision had been the right one as Denmark once again took a three-goal lead (20-17).
Additionally, the second half had a distinct face from the first, which would have appeared to be Pytlick and Mathias Gidsel in charge. Rasmus Lauge Schmidt, a center-back who's 31 years old, missed five games in this tournament because of an injury, and his health was still in question before the title game. Lauge, though, really took off and became practically unstoppable in the second half. He gave a great performance, one of the best, if not the best of his career, and became just the sixth player in history to score in double digits in the IHF Men's World Championship final. Additionally, Pytlick scored numerous goals in crucial situations to close off the game with close to double digits.
After Landin stopped Melvyn Richardson's penalty with two minutes remaining, maintaining Denmark on a three-goal lead (32-29), it proved to be too much depth for a beaten France, whose dream was in tatters.
Danes Write Handball History
Sunday evening in Stockholm's Tele2 Arena, which was attended by more than 23,000 spectators, proved to be momentous for Denmark. The Scandinavian team won the third consecutive World Champs (2019, 2021, and 2023) in addition to extending their unbeaten streak at the IHF Men's World Championship to 28 games, a competition record.
After France and Romania won the championship twice in a row already (the latter did it two times), no team has ever accomplished a hat-trick. Only Sweden and France, with 12 medals each, have won more honors at the World Championships than Denmark, which earned seven medals.