Two Large Fighting Franchises Merge: WWE and UFC Are Joining Forces to Create New Organization
Publication date: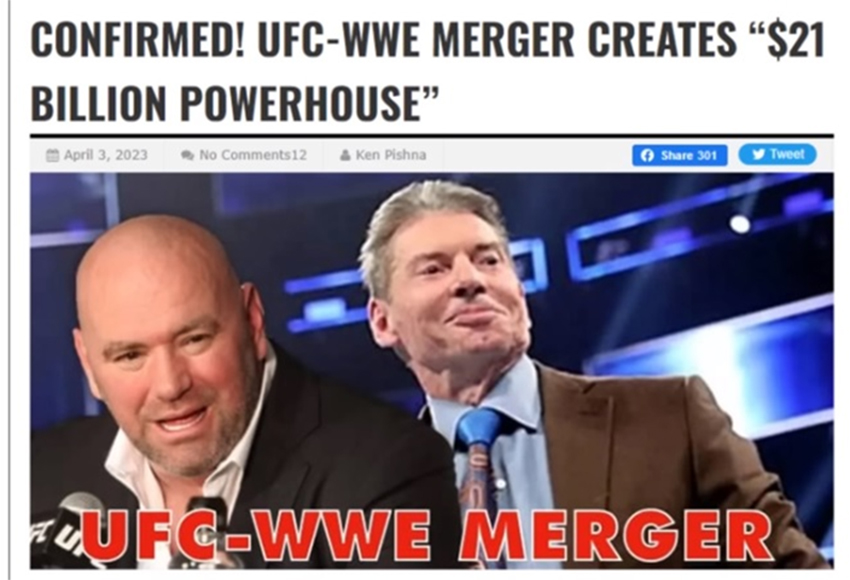 To create a new publicly traded firm, World Wrestling Entertainment (WWE) is joining forces with Endeavor Group, the parent organization of rival UFC (Ultimate Fighting Championship).
The newly united firm is valued at nearly $21 billion thanks to the agreement: UFC is worth $12.1 billion, while WWE is at $9.3 billion; owners of Endeavor will own 51% of the new firm after its merger, while WWE owners would receive 49%. In 2016, Endeavor bought the majority of the shares of the UFC (a transaction worth $4.2 billion), and in the years since, it has come to own 100% of the promotion, which is chaired by Dana White.
Ariel Emanuel, CEO of Endeavor, said in a statement that this was a unique opportunity to develop a worldwide live sports and entertainment pureplay suited for where the industry is headed. The CEO of the new business will be precisely Emanuel, a powerful agent in Hollywood who'll continue to hold that position at the firm.
At the new company, which has no name yet, Vince McMahon will continue to hold the executive chairman position he currently holds with WWE. The new business will be in a good position to maximize the value of our combined media rights, he claimed in a statement. He added that the new business might grow by seeking other mergers and acquisitions in order to strengthen our already strong stable of brands.
Early trading saw a decline of over 10% in WWE shares and about 2% in Endeavor. Upon completion of the acquisition, which is anticipated to happen in the second half of this year, the firms anticipate cost savings of $50 million to $100 million. The ticker symbol for it on the New York Stock Exchange will be "TKO".
Eleven people will make up the board of directors for the new business; six of them will be chosen by Endeavor and the other five by the WWE. In 2021, Endeavor, which also owns William Morris Endeavor, the largest talent agency in Hollywood, acquired full ownership of the UFC. Over 10% of the company's shares have increased in value this year. The UFC is housed in its sports division, which saw a 20% increase in revenue to $1.3 billion last year, in part due to higher media rights fees.
WWE's Independence Comes to a Messy Conclusion
The merger signals the end of WWE as a family-owned company. Early in the 1980s, Vince McMahon acquired the business from his father and turned it into an entertainment conglomerate with a number of regular live events. The business agreed to a deal with NBCUniversal's Peacock streaming service in 2021 to air many of its episodes for an estimated $1 billion.
A hush money and sexual harassment controversy drove McMahon, the company's top shareholder, to resign as CEO last year. Vince McMahon hadn't previously declared a number of costs totaling $19.6 million, which WWE revealed after he left. He rejoined the board in January and declared he was looking into strategic options for the company's shareholders, including a sale. In 2022, the WWE generated more than $1.29 billion in revenue, and its stock price increased by more than 30%. In a CNBC interview, Emanuel defended maintaining the thorny WWE chief, saying their friendship of several decades will make the alliance successful.
What Does This Merger Mean for Sports?
Since its inception in its modern form (in 1993), mixed martial arts have been closely associated with WWE professional wrestling, an activity often known in foreign languages as "catchers". Although MMA is a legitimate sport, fighting for Olympic status in future cycles, and "pro wrestling" is sports entertainment, there are many common elements.
The world's leading MMA promotion Ultimate Fighting Championship has used production elements taken from WWE, the world's most popular professional wrestling organization, since its inception.
Apart from the logistical elements that connect WWE and UFC, we also saw athletes/actors who tried their hand at "real" and staged fights. The biggest star among them is certainly the mega-popular Brock Lesnar, who after a successful career in WWE became the UFC heavyweight champion. The corpulent fighter from South Dakota defeated Randy Couture in 2008 and then defended the belt against Frank Mir and Shane Carwin before being stripped by Cain Velasquez.
There's also the "case" of Phillip Brooks, known by his "ring name" CM Punk, who was a very successful catcher, and in the UFC Octagon, he recorded two defeats, the second of which was annulled because he tested positive for illegal substances. Many UFC stars performed in WWE during or after their careers, such as Ronda Rousey, Junior dos Santos, Ken Shamrock, Paige VanZant… It seems that such collaborations will be much more frequent since the news that the American media company Endeavor will buy the majority of the ownership of WWE.
The popularity of the WWE organization is huge in the USA, and it's also significant in other countries of the Western world. Exceptions could be Mexico and Japan, which have their own local culture of professional wrestling, which is extremely popular. UFC fighters have often been the subject of media attention over the years regarding how much they are paid, and the topic came to a head when UFC Heavyweight Champion Francis Ngannou left the promotion because he was unhappy with the financial offer.
It's very possible that we'll see the transition of MMA fighters to the sports entertainment environment more often, meaning more fighting choices for punters on bookmakers with Android apps, and there's no doubt that Endeavor received an extremely watched program. The American media reports that in March, five of the six most watched sports events belonged to "March Madness", the final NCAA basketball tournament and the sixth was the WWE event "WrestleMania 39".
Obviously, it should be emphasized that professional wrestling has few points of contact with the so-called. Olympic wrestling, i.e. freestyle and Greco-Roman style wrestling. In addition to the designed scenario, in the ring and outside it, professional wrestling implies a developed stage performance in which props, practiced acrobatics, acting talent is used…