Vettel, 4-Time World Champion, Will Leave Formula 1 at End of 2022 Campaign
Publication date: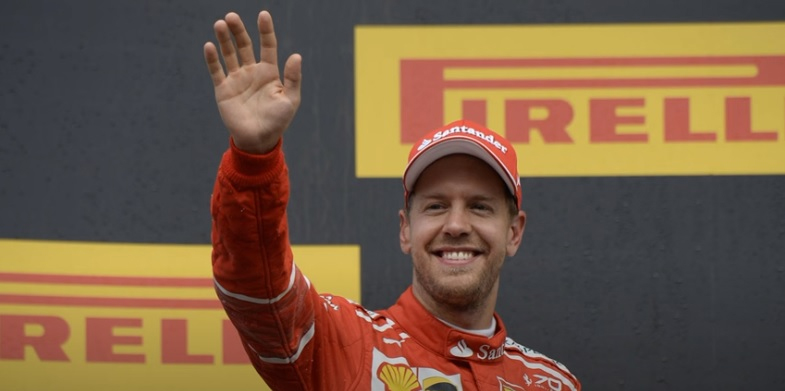 Sebastian Vettel, a four-time world champion, will leave Formula 1 at the conclusion of this year. The 35-year-old claimed that the choice had been challenging and that he had given it a lot of thought. The German remarked that at the end of the year, he'd take more time to consider what he'll concentrate on next. He declared that prioritizing more time with his family was important.
Vettel will retire from racing as one of the most accomplished racers in history. Only Lewis Hamilton, Michael Schumacher, and Juan Manuel Fangio have more F1 world championships under their belts than Sebastian Vettel, and only those three athletes have more race victories than his 53. That wasn't about bidding farewell, he clarified. Instead, it was about expressing thank you to everyone, especially the fans, without whose ardent support Formula One wouldn't be possible.
In 2021 and 2022, Vettel, who won four straight drivers' championships with Red Bull from 2010 to 2013, stated he had a great time working with Aston Martin. Vettel was in plans of Aston Martin for the upcoming season, but he made the decision to leave the sport. The organization has made no announcement about a replacement for Vettel, who finished 18th in qualifications for the Hungarian Grand Prix (the next race in the 2022 season for which you can find odds at the best betting sites for F1), next season.
He has developed into a vocal advocate for social and environmental causes in recent years. Vettel has never used social media, but on Thursday, just before announcing his retirement, he opened an Instagram account to reveal his decision to the world.
"I love this sport but as much as there's life on track there's my life off track, too. Being a racing driver has never been my sole identity. I believe in change and progress and that every little bit makes a difference. Committing to my passion no longer goes side by side with my wish to be a great father and a husband. I feel we live in very decisive times and how we all shape these next years will determine our lives," the German said in a video message.
Vettel's Truly Stellar Career Summed Up
Vettel, who has been a full-time Formula One racer since 2007, has had a split career. His most prosperous period was spent racing with Red Bull, which he joined in 2009 and for whom he won 38 grand prix races and four straight championships from 2010 to 2013. Seasons of exceptional dominance were the second and fourth of those titles. He won 13 races in 2013, tying Schumacher's record from 2004. He also won the last nine races in a row, the best streak of victories in a single season, and the second-longest streak overall. In addition, Alberto Ascari won nine games in a row in the 1952 and 1953 seasons. But his victories in 2010 and 2012 came at the culmination of protracted confrontations that lasted all season.
His maiden championship was won under unusual circumstances and in a battle with four other drivers throughout the year, including Mark Webber of Red Bull, Fernando Alonso of Ferrari, and Lewis Hamilton and Jenson Button of McLaren. Despite never having led the points all season, Vettel entered the final race in Abu Dhabi third in the standings, behind Alonso and Webber. But after Ferrari committed a disastrous tactical error and forced Alonso into the pits in reaction to Webber, the Spaniard was unable to recover and Vettel won the race by outpacing both of his competitors and securing the championship.
Due to the season deteriorating into a straight fight between Vettel and Alonso in 2012, the contest was much more fierce. With seven races remaining, Alonso was 39 points ahead of Vettel in a slower car as Vettel and Red Bull encountered numerous issues in the first half of the season. Still, in the last portion of the season, Vettel won four straight races in Singapore, Japan, South Korea, and India thanks to rigorous Red Bull car development. Vettel closed the distance and hung on in the remaining three races to win his third championship, helped by Alonso being eliminated at the start of the Belgian and Japanese races by Lotus drivers Romain Grosjean and Kimi Raikkonen.
An Unsatisfactory Second Chapter
When new engine restrictions brought about a period of Mercedes dominance in 2014, Vettel's run of success came to an end, and he started to exhibit unexpected inconsistency. He went to Ferrari in 2015, publicly declaring he wanted to emulate his childhood hero Schumacher, who had won five titles with the Italian team from 2000 to 2004. In his final year at Red Bull, he was outpaced by new teammate Daniel Ricciardo.
Between 2015 and 2019, Vettel won 14 races for the team, making him the third-most successful driver in the team's history in terms of victories. Despite possessing the most competitive car for the majority of the 2017 and 2018 seasons, he and the team were unable to win the championship he so desperately desired. Ferrari experienced operational and reliability issues, but throughout 2018, Vettel also started to make a string of errors that were unusually frequent for a driver of his caliber and were never fully explained.
The team ultimately lost faith in Vettel. In only the Monegasque's second season in the sport, they signed Charles Leclerc in 2019 to serve as a benchmark for him. He was beaten by Leclerc in his debut season with the team. Ferrari decided to drop Vettel towards the end of the 2020 season when it was postponed due to the pandemic in the time leading up to it. Vettel was taken aback by the choice, and he wasn't shy about how it affected him. Regardless, he will go down in sports history as one of the best drivers.
Vettel's true self has emerged since leaving Ferrari as he has been more empowered to express himself. He has served as a Grand Prix Drivers' Association director for a number of years and has developed into a powerful spokesperson on important world problems, particularly climate disasters.