Recap of Sports Year 2021: Moments That Whole World Remembers
Publication date: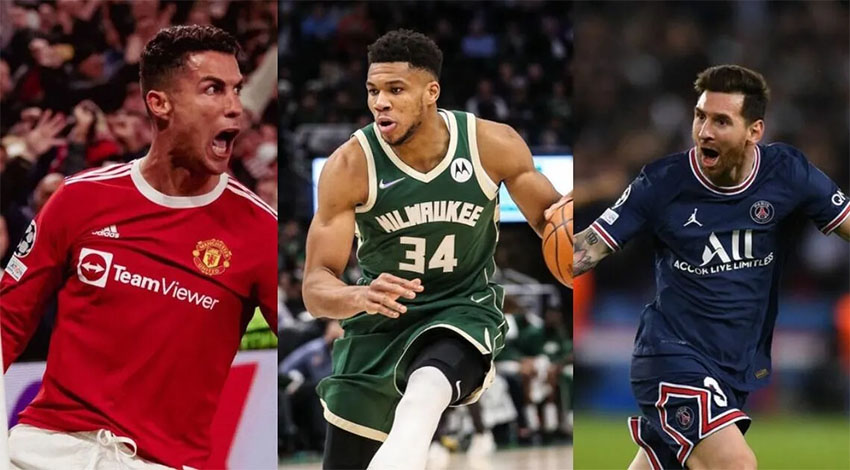 Time flies, and before you know it, another year has passed us by. But, before we start watching sporting events in 2022, let's take a look back at all the remarkable moments that have occurred over the past 12 months.
The year 2021 will undoubtedly stand out in the sporting landscape. During the second year of the ongoing coronavirus pandemic, which began in China in early 2020 and expanded across the globe, athletes and organizations became much more accustomed to playing and holding tournaments in the midst of a global health crisis.
While sport came to a halt for a few months before slowly resuming, athletes grew much more accustomed to the concept of bio-secure bubbles last year, as a result of which 2021 witnessed significantly more sporting activity than its predecessor. And it was thanks to the concept of bio-secure bubbles that huge events like the Tokyo Olympics and Euro 2020 – both of which were postponed for a year – went off without a hitch, despite the fact that the notion appeared unthinkable at the time.
Bookmaker-Expert selects some of the favorite moments from 2021, all of which underlined with competitive odds at the best betting sites in the world…
At Euro, Italy Denies England a Home Title
England had a chance to take its first men's soccer major title since winning the World Cup in 1966 but was denied.
On July 11, in front of an English crowd at London's Wembley, the Italians rallied after surrendering an early goal to win the Euro final on penalties (1-1, 3-2 shootout). And just 3 years prior, Italy had failed to qualify for the 2018 World Cup, the first time it happened to them in 60 years. Roberto Mancini, who had taken over as Italy's head coach for the first time, developed a successful and winning squad.
Eriksen's Health Worry on Pitch Welcomed with Gesture of Solidarity
Let's stay at Euro for a bit longer. While everyone hoped for the safety of Christian Eriksen after he collapsed against Finland, the response to the situation was very inspiring, demonstrating how humanity can come together in times of need. Danish player's teammates instantly formed a crowd around him, a human shield, to hide the player and medical personnel from the cameras.
Eriksen, who had recently left Italian club Inter Milan, was transported to a hospital in his country's capital after receiving CPR on the pitch. The entire world prayed for his safety, and when the doctors confirmed the footballer was no longer in danger, there was a sigh of relief.
After nearly 2 hours, the action resumed, and one of the most memorable moments of Euro occurred, with one set of Parken Stadium fans yelling "Christian!" and the other set chanting "Eriksen!"
Biles Takes Break from Olympics to Raise Awareness of Athletes' Mental Health
Simone Biles, the predicted star of the women's gymnastics events at the Tokyo Olympics, withdrew from the individual all-around final on July 28 and later from the vault, uneven bars, and floor finals. The 24-year-old American said she was hampered by a lack of confidence and spatial awareness before she was to compete in her second Olympics.
Biles had been in foster care since she was a child, and as a gymnastics champion, she was put under a lot of strain. She also stated in 2018, after years of silence, that she was a victim of Larry Nassar, the former US national team doctor who was convicted of sexually abusing more than 100 women. Despite these challenges, Biles competed in the beam event and took home the bronze medal.
French Team Sports Amazes World in Tokyo
On August 7, France won the Olympic handball and volleyball tournaments for men in under 70 minutes. Despite their eventual loss to the Americans in the men's basketball final, France had a fantastic day.
Also, in the span of 12 hours, French team sports won the mentioned 3 Olympic medals, plus a bronze medal (women's basketball), as well as a silver medal in women's Rugby 7 and a gold medal for the women's handball team.
Paris Welcomes Messi
On August 10, two days after announcing his departure from Barcelona, where he had spent his entire career, the male soccer star Lionel Messi signed a 2-year contract with Paris Saint-Germain, with a one-year extension option. The 34-year-old Argentinian has arrived in Paris to join his former teammate Neymar.
'La Pulga', regarded as one of the greatest footballers of all time, is still finding his feet at his new team. In 11 domestic league games, he has only scored one goal and provided 4 assists. On November 29, he won his 7th Ballon d'Or, beating Bayern Munich's Robert Lewandowski and Chelsea's Italian-Brazilian Jorginho, in part due to his first Copa America victory this summer.
Djoković's Pursuit for Calendar Grand Slam Comes up Short
Novak Djoković came dangerously close to achieving the Open Era's greatest feat. The Serb, who lost to Russian Daniil Medvedev in the US Open final on September 12, missed out on joining the rare club of men's tennis champions who have won the Australian Open, French Open, Wimbledon, and US Open in the same calendar year. In 1969, Rod Laver was the last man (and second male tennis player in total after Don Budge in 1938) to achieve so. Actually, Laver did it twice: in 1962 and 1969. Steffi Graf (1988), Margaret Court (1970), and Maureen Connolly (1970) are the only women's players to achieve this unusual achievement (1953).
In addition to missing out on a medal at the Tokyo Games, the Serbian champion finished 4th in singles and forfeited the semi-final in mixed doubles. But he might take solace in the several records he has set last year: at Wimbledon, he equaled Rafael Nadal and Roger Federer by winning his 20th Grand Slam title. He also broke his Swiss rival's record for the most weeks at the top of the ATP rankings. He was also selected Player of the Year by the International Tennis Federation (ITF) for the 7th time.
Peng Affair Draws Attention of Sporting Community to China
Peng Shuai, a Chinese female tennis player, accused former vice-premier Zhang Gaoli, who was one of China's most influential officials from 2013 to 2018, of forcing her into a sexual relationahsip and then making her his mistress in a lengthy text posted on the social media platform Weibo on November 2.
Censors in China quickly removed the statement. After that, the former world No. 1 doubles player made no further public appearances for several weeks, causing alarm among sports fans, the United Nations, and a number of countries, including the United States and France. As international pressure built on China, Chinese journalists sought to comfort the public by posting photographs of Shuai, but the WTA, the world association of professional women's tennis, remained skeptical of the documents' legitimacy.
Shuai then retracted her statement, claiming that she had never accused anyone of sexual assault and that her social media post had been misconstrued. Despite her statement, the WTA, which had stopped its tournaments in China for safety concerns, underlined its concerns for Shuai's well-being and called for an investigation.
Historical Final Lap for Verstappen
After years of unchallenged dominance by Lewis Hamilton, Dutchman Max Verstappen won the Abu Dhabi Grand Prix ahead of his British adversary, courtesy to a last-lap overtake on December 12, to become Formula One world champion for the first time.
After the 1974 championship, it was only the second occasion in the men's sport's history of F1 that two drivers went into the final race of the season with the same number of points: 369.5. Verstappen had the advantage of starting from the pole position. Hamilton, on the other hand, had the best start and claimed the lead at the first corner. With 6 laps to go, however, a crash by Nicholas Latifi (Williams) changed the situation: the race was halted until the Canadian driver's car was cleaned. The 24-year-old Verstappen was able to change his tires and close up to Hamilton's Mercedes, eventually winning on the final lap.