O'Sullivan Wins His 7th Snooker Title After Beating Trump in World Championship
Publication date: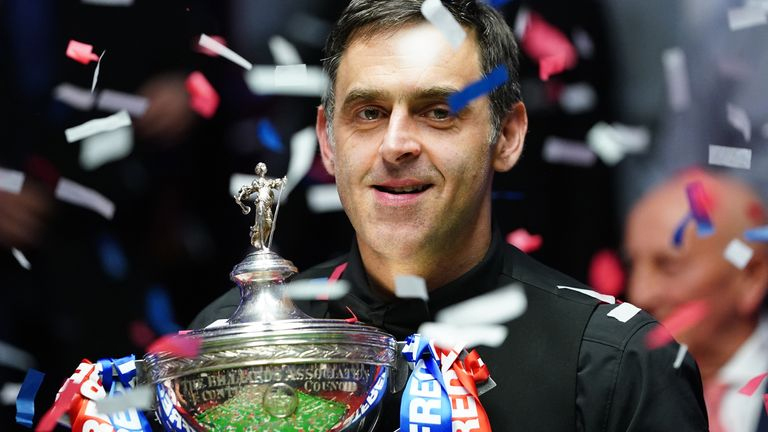 Ronnie O'Sullivan defeated Judd Trump 18-13 to become the Crucible's oldest champion. With the victory, an English snooker player equaled Stephen Hendry's record of 7 world snooker titles, and an 8th could be on the way shortly based on his recent form in Sheffield.
Before defeating Trump, for which he was a designated favorite according to bookmakers with Android apps, O'Sullivan won his first world title in 2001 and went on to win the sport's top prize in 2004, 2008, 2012, 2013, and 2020.
O'Sullivan Equals World Champs Title Record
Ronnie O'Sullivan won the World Championship for a record-equaling 7th time at the Crucible, overcoming Judd Trump's resistance. In snooker's greatest global spectacle, the 46-year-old Englishman, became the tournament's oldest champion, joining Stephen Hendry at the top of the all-time charts. After winning 18-13, an emotional O'Sullivan enjoyed an incredible moment with Trump, embracing him for over a minute before openly crying in front of his children.
After sailing to a 12-5 lead last Sunday, the day was hailed as O'Sullivan's coronation, but a horrific third session saw Trump reduce the gap to 14-11 and begin fantasizing about authoring his own Crucible legend. Whatever version of O'Sullivan was on display the next day afternoon wasn't on display in the evening, as the sport's two heavyweights belatedly shone at the same moment – Trump rediscovering his magic from afar, O'Sullivan demonstrating unrivaled cue ball control.
Trump would've known that a 12-5 comeback was possible because Mark Williams had done it in the semi-finals against him. Trump had watched in dread as a 12-5 lead turned into a 15-16 tie, with just two daring cross-doubles in the last session allowing him to win. Even if the Rocket was forced into a row with referee Olivier Marteel, whom he later accused of searching for trouble, Trump appeared fatigued and exhausted as O'Sullivan purred on Sunday.
Trump Just Needed to Win 3 Frames in 4th Session…
Those who bought tickets for the 4th session were probably wondering if they'd get any snooker, as Trump just needed to win 3frames on Monday afternoon to force a final. He achieved much more than that, winning the session 6-2 to close the lead to 3 points, thanks to the most absurd of flukes in the final frame.
But recovering a 7-frame lead against perhaps the game's greatest frontrunner was always going to be difficult, and O'Sullivan soon put his earlier wobbles behind him to win the 26th set in one visit with a break of 82.
27th Inning Started with 3 Reds for O'Sullivan
Trump started the 27th inning with 3 exquisite reds, the 3rd eventually putting him among the balls. But, as he had done so many times on Sunday, he let himself down with far easier close-range attempts, such as a black into the bottom corner. With an 88 contribution, O'Sullivan swooped in. He was 2 away. With a 64, Trump finally got on the board in the session, setting up a thrilling last frame before the break.
With a brilliant cross-double into the middle pocket, the 2019 champion was first to score, but his follow-up on the brown found the jaws as Trump continued to be 'allergic' to potting anything that wasn't red. On 16, O'Sullivan collapsed while attempting his own double, but he was quickly let back to the table, and another half-century, this time a 75, put him within a frame of the trophy.
Trump returned from the break knowing that he needed to win 6 frames in a row to win his second title. Before a succession of brilliant pots bailed him out when he ran out of position in the 30th frame, he produced another spectacular long red. He eventually broke down on 38, but an O'Sullivan blunder and a free ball soon got him back in, allowing him to deliver the tournament's 109th century – a new record – and complete task 1 of 6. But his challenge would come to an end in the 31st frame when O'Sullivan hit a famous 85 to claim a 5-frame triumph, a 7th trophy, and a £500,000 winner's cheque.