Nadal Makes Tennis History by Breaking Grand Slam Record for Most Titles Won
Publication date: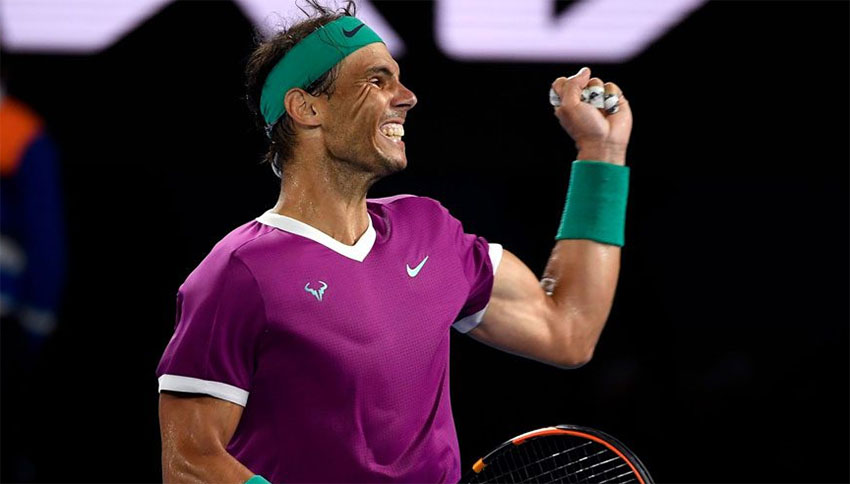 Men's tennis crowned its greatest ever – for the time being, at least – in a week when the NFL began to wave farewell to one GOAT. With his win at the 2022 Australian Open, Rafael Nadal now has 21 Grand Slam titles, one more than Roger Federer and Novak Djoković.
It's the tennis equivalent of being the first to climb Everest: Nadal is out on his own, having attained a level of achievement in the sport that no other man has matched. However, it's an intriguing and disputed metric of success: In men's tennis, the GOAT argument is extremely subjective and extends much beyond the simple number of Grand Slam singles championships.
AO Final Against Medvedev Was a Classic Nadal
His 5-set win over Daniil Medvedev ranks among Nadal's finest victories. He had to come back from a 2-set deficit in a battle where the momentum bounced back and forth between the two players, only to find another gear just as the Russian began to feel the strain of the match.
The forehand of Nadal is legendary, but he has added so much more to his game. Despite growing aches and pains, the Spaniard pushed Medvedev over the court with drop shots and top-spin forehands, winning 2-6, 6-7 (5), 6-4, 6-4, 7-5, and justified the faith bookmakers with iOS apps had in him prior to the match. It was an incredible feat of endurance and tactical mastery. The race to Grand Slam No.21 has been enthralling.
Both Federer (knee injury) and Djoković (deportation) were unable to compete in the Australian Open, allowing Nadal to go one better. The 'Rafa' we saw in Melbourne isn't the same as past versions of the Spaniard; he's progressed to the next stage of his development. Each of the Big Three has had periods of dominance that have lasted longer than the other two. In the 2019 Wimbledon final, Federer had his last chance thus far to reach 21, but he was defeated by Djoković.
Djoković has recently been thought to be the most likely to reach 21 first, with last year's US Open appearing to be the Serb's failure. In August, Nadal withdrew due to a chronic foot condition he'd had since 2005, while Federer was out due to a knee injury he'd been dealing with since Wimbledon. So, Djoković was undefeated in New York until coming to a step from claiming 21, only to lose in the final to Medvedev.
Near-20-Year Big Three's Reign of Terror
Medvedev's victory in the US Open was only the second time in the past 19 major finals that someone other than the Big Three had won a Slam, despite their near-20-year reign of terror in this sport. The players have come and gone, but the trio's influence on tennis has been phenomenal.
When Nadal made his breakthrough in 2003, it was Federer who dominated, winning 12 of the potential 20 Grand Slams between 2003 and 2007. Then there was Nadal's remarkable run from 2008 to 2010 when he won 6 Slams and Federer swooped in for 4.
During these two years, Djoković won his first Grand Slam, the 2008 Australian Open, and the balance of power shifted in his favor from 2011 to 2016, when he won 11 Slams to Federer's one and Nadal's 5. Injuries plagued Nadal in 2015 and 2016, but he bounced back to win 4 French Opens from 2017 to 2020, including Grand Slam No. 20 at Roland Garros in 2020.
While Nadal currently leads his two sparring opponents by one Slam, their supporters will point to different statistics to show their GOAT-ness. With 369 wins in the Open era, Federer leads Djoković (323), and Nadal (298). While Djoković's fans will mark this Nadal victory in Melbourne with an asterisk due to Djoković's forced absence.
Even when challenged about the milestone embodied in a victory in Australia, Nadal has downplayed the significance of reaching 21 ahead of Federer and Djoković. Instead, this more philosophical Nadal, who was contemplating retirement just 2 months ago, is eager to take a thousand-mile view of his reign of terror. Rather than focusing on himself, he loves to discuss the three of them as if they were tennis' own musketeers. They've pushed each other forward at different times, each with their own competition, but now it's as though they're out on their own, fighting their own battles and keeping the light flickering through the clouds of retirement.
Nadal Himself Emphasizes Something That's More Important Than Winning 21
As he ascends to No. 21, Nadal will treat his Grand Slam victory as a one-off. After battling back from a 16-year foot ailment and a six-month layoff to win in Melbourne, he chooses to consider his victory in the context of his recent rehabilitation rather than as part of a 21-piece puzzle.
Nadal's victory in the second-longest Grand Slam final in history was perplexing, but when he threw the two celebratory punches and went to his knees, it was this anchoring in the now that has kept him going through Melbourne, never once hyping up his chances.
"Of course, everybody knows me, and I'm always going to try my best. My goal now is to win. Always with the competitive spirit that I have … it's my personal DNA. But in some way, I don't know, just be what I am and be able to have the chance to compete at this level, it's positive energy for me to keep going because at the end of the day, and being very honest, for me is much more important to have the chance to play tennis than win the 21," Nadal said ahead of the 2022 AO final.
And it's because of this approach that the trio has managed to stay at the forefront of the chasing 'pack'. They've all had periods of dominance in the sport, but while seeing all three in the same competition is becoming increasingly rare, when they're on form, they're unquestionably the best in the world.
More tips on Tennis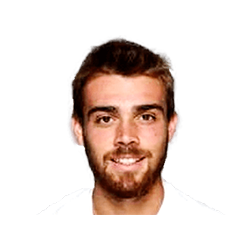 Bonzi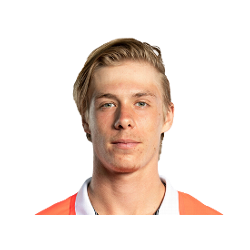 Shapovalov
June 22, 2022
|
12 p.m. local time
---
Tournament
Mallorca Open, ATP 250