From Contract Extension Agreement to Parting: Messi Leaves Barcelona in Tears
Publication date: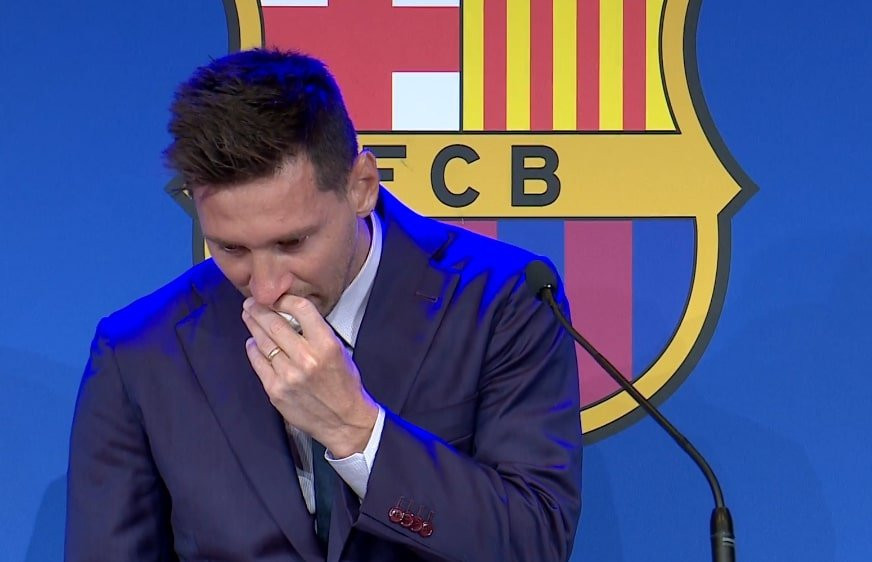 At his final press conference as a Barcelona player, Lionel Messi broke down in tears and, for the first time, spoke up about his departure from the club and future plans. The Argentine will leave Catalan giants with 10 league titles, four Champions League titles, and three Club World Cups among his collection of 35 trophies after 778 appearances and 672 goals.
For Messi's farewell, his family and some of his teammates gathered at Camp Nou. From the moment he sat in front of the microphone, the Barcelona icon battled to keep his composure. He started his speech by saying that he and his family had no plans to leave and that they had been preparing for their future in Barcelona. 'Leo' said that this unexpected turn of events caught him off guard and that everything appeared to be in place for him to stay, but that La Liga rules changed it all. He went on to say that he didn't want to stay last year, but he tried everything this year to make sure he did.
Messi's Explanation
"A lot of things have gone through my head. I've still not come to terms with the reality of leaving this club now and changing my life. We need to accept it and move forward. The time when I made my debut, which was my dream come true, and everything that came later was amazing. I'll always remember that moment where everything started," said Messi and added: "Honestly, last year with all the nonsense with the 'burofax', I was convinced I knew what I wanted to say, but this year isn't the same. This year, my family and I were convinced we were going to stay here at home. It's what we wanted more than anything. We have had some good times and some bad times as well, but love people have shown me has always been the same."
The striker stated that he wanted to stay at the club and had agreed to a 50 % pay cut in exchange for a new contract. Barcelona, on the other hand, couldn't even afford a price cut.
Messi has been with Barcelona for over two decades and is the club's most decorated player. His children are Argentine-Catalan. When things didn't go well on the pitch, there were multiple efforts at brinkmanship, including a request to leave the club before the 2020/21 season. Josep Bartomeu, the former president of 'Barça', had a tense relationship with the player. When Joan Laporta took over as Bartomeu's replacement, Messi pledged his future to Barcelona. He was a free agent on July 1, and a new deal was being negotiated which was supposed to be a matter of formality.
What Did Barcelona Have to Say About Messi's Departure?
Barcelona announced in a statement on August 5 that Messi "won't continue" with the club. They intended to extend the 34-year- old's contract by two years, but La Liga's Financial Fair Play (FFP) rules prevented it. A day later, Laporta said: "Leo wanted to stay and the club wanted him to stay, but with the La Liga rules it hasn't been possible." Barcelona's wage-to-turnover ratio must be 70 % according to the rules.
Even if he had Messi for free, Barcelona would not have been able to re-sign the six-time "Ballon d'Or" winner. With Messi on board, the club's wage-to-turnover ratio was 110 %, according to Laporta. Without an Argentine player, the percentage would have been 95 %, still much above the FFP cut-off mark. The club's debt has surpassed GBP 1 billion, according to the latest financial report, which includes money owing for Philippe Coutinho and Frenkie de Jong. Barcelona's first-team squad has a pay expenditure of roughly GBP 235 million per year.
Is This Really Messi's End at Barcelona?
An emotional farewell suggests so. Messi has been the most lucrative player in the Spanish league in terms of commercial deals and TV rights, and some pundits believe this is a pressure strategy by Barcelona to get La Liga to relax its FFP restrictions. On the heels of Barça confirming Messi's departure, their fiercest rivals Real Madrid released a statement criticizing La Liga, on whose matches you will be able to bet at the top bookmakers as soon as the new season opens up.
Messi remained tight-lipped about his next move, but when questioned about Paris Saint-Germain at the press conference, he said it was "a possibility". According to reports, he has met with PSG coach Mauricio Pochettino, and the club is planning an Eiffel Tower presentation of Messi. PSG is one of the few clubs in the world that can afford the star. Messi's arrival might also open up massive economic opportunities ahead of the 2022 World Cup in Qatar, as the French club is owned by Qatari businessmen.