Efes Defeat Real in Negative Record-Breaking EuroLeague Final to Win Back-To-Back Title
Publication date: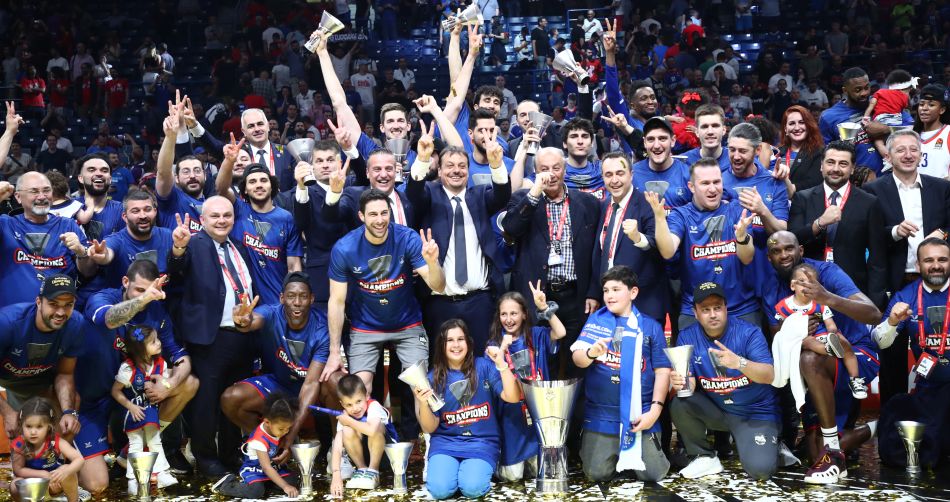 Anadolu Efes, the reigning champions, defeated Real Madrid 58-57 in the men's basketball EuroLeague final game in Belgrade, Serbia, to win their second title in a row. The odds at bookmakers with betting bonuses didn't go in their favor so whoever bet on them, earned a profit.
Micić MVP, Again
Local hero Vasilije Micić led the way for the Turkish side with 23 points on a historic night (2,500 EuroLeague career points) and won his second back-to-back final MVP award, this time from EuroLeague legend Vassilis Spanoulis. It should be noted that Micić won the "Alfonso Ford" award for the best scorer in the EuroLeague this season, and he was chosen in the second lineup of the elite club competition in the 'Old Continent'.
In the lowest-scoring EuroLeague final in modern history, German Tibor Pleiss scored 19 points and American with a Turkish passport Shane Larkin added 10, accounting for 52 of Efes' total 58 points. Micić called the game with critical shots after a 37-minute duel, and Efes' teamwork paid off in defending their rivals from Spain to be proclaimed winners. The club from Istanbul is only the fourth team in the EuroLeague to win back-to-back championships in the Final Four era (started in 1988), behind Yugoslavia's (now Croatia's) Jugoplastika (1989, 1990, 1991), Israel's Maccabi Tel Aviv (2004, 2005) and Greece's Olympiacos (2012, 2013). This means that Efes won the first EuroLeague consecutive title in 9 years.
Real's Lead Evaporates in Last Moments of Game
U.S. center Walter Tavares came up big in the opening quarter, scoring 12 points and putting his club up by one (15-14). Both sides went on respective surges early in the second period, resulting in a competitive game until the big guy from France, Vincent Poirier, and American-Slovenian Anthony Randolph gave Real a five-point lead before halftime (34-29).
The Spanish team maintained control in the second half, forcing Efes into back-to-back errors to take a 9-point advantage by the third quarter's midway (40-31). The defending champs rallied to cut the lead to 2 points, but tensions between American small forward James Anderson and Vincent Poirier flared, resulting in two unsportsmanlike foul calls each.
Early in the fourth quarter, Efes took a 5-0 lead, setting the tone for Ergin Ataman's team's comeback, which finished in the greatest possible way. On the other side, Real's sole player in double digits was Walter Tavares, who had 14 points and 11 rebounds. Sergio Llull scored 9 points, but the club was unable to complete its return to Europe's throne.
Famous Referee Lamonica Retires
After 26 years of officiating international events, Luigi Lamonica, a well-known European referee, has retired from the EuroLeague.
The Italian is 56 years old and has no choice but to retire under the rules. In 2016, when he reached the age restriction in Italy, he did the same with his domestic duties. He received the honor of Knight Order of Merit of the Italian Republic in 2019.
His refereeing career began in 1980, with his first important international experience coming in 1997 at the European Championship, followed by the EuroLeague Final Four in 2002. He officiated the EuroBasket Final the following year. After that, there was no single major international event in which he didn't take his part.