Due to Positive Drug Test during US Open, Former No. 1 Halep Gets Suspension
Publication date: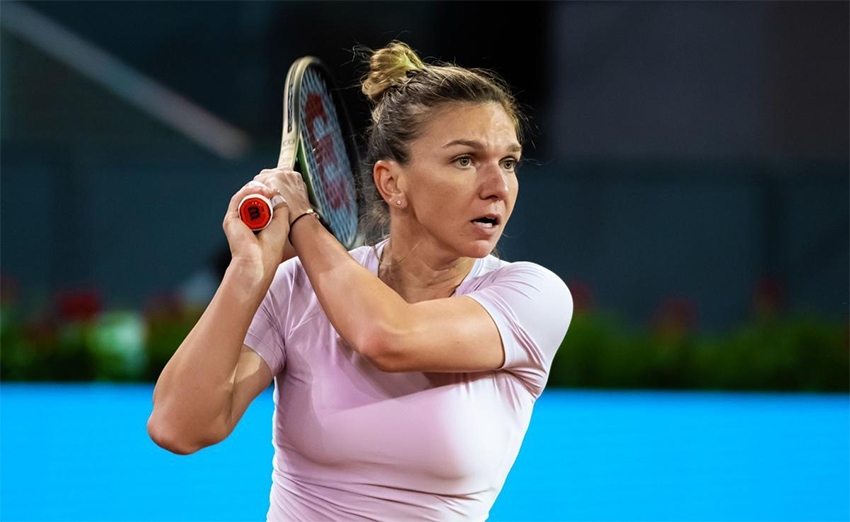 Simona Halep, a former world number one in women's tennis, failed a drug test at the 2022 US Open and has been given provisional suspension with the possibility of getting a four-year ban on competing by the International Tennis Integrity Agency (ITIA).
Two-time Grand Slam champion Halep, who's ranked No. 9 in the WTA rankings, was suspended on Friday, October 21, by the ITIA after obtaining a positive test for the drug named roxadustat.
Halep could be subject to a 4-year suspension under the World Anti-Doping Code of the World Anti-Doping Agency (WADA) if she tests positive for something like roxadustat. If athletes swiftly recognize an error and accept their punishment, their suspension could be reduced, probably to 3 years. Halep's case will be handled by the tennis authorities, and the WADA has the right to appeal any decision to the Court of Arbitration for Sport (CAS). A tennis player who's temporarily suspended isn't permitted to participate in or watch any official events.
Since Maria Sharapova's suspension from the sport in 2016, Halep, the former world No. 1 from Romania, has been involved in the most noteworthy doping scandal in women's tennis. Roxadustat residues were discovered in Halep's urine. Halep claims the results indicated "extremely low" quantities of the substance in her system. She also denies intentionally taking the drug.
Substance Found in Halep's Body on WADA Prohibited List, but Permitted Drug in EU
The European Union (EU) has approved the use of the medication roxadustat for treating anemia brought on by chronic renal failure. The roxadustat drug was certified by the EU's drugs agency last year. According to the agency, it encourages the body to create more of the naturally occurring hormone erythropoietin, or EPO, which has long been a preferred doping agent among cyclists and distance runners; in more plain language – roxadustat encourages the production of red blood cells and is listed as a forbidden substance by the WADA.
The 31-year-old Romanian athlete (the winner of 2018 French Open and 2019 Wimbledon) recently declared she would sit out the remainder of the current campaign after getting a nose job to help her breathe easier. After suffering a string of injuries, she thought about giving up this year early, but after joining forces with Serena Williams' former coach Patrick Mouratoglou in April, she claimed she felt revitalized. Representatives for Mouratoglou and the U.S. Tennis Association declined to comment to the media for the time being.
Halep Declares That She'll "Fight for Truth"
At the US Open, Halep was seeded No. 7 until she fell to Ukrainian Daria Snigur 6-2, 0-6, 6-4 on August 30. It was considered a major upset given that Halep was world No. 9 and her rival No. 116. But, Snigur defied the odds set between 10.00 and 12.00 on her at bookmakers with iOS Apps, compared to 1.05 to 1.07 on Halep.
Following her temporary tennis ban for failing a drug test at the Grand Slam in New York, Halep declared that she'll "fight for the truth". Halep made a lengthy statement that was shared on social media:
"Today begins the hardest match of my life: a fight for the truth. I have been notified that I have tested positive for a substance called Roxadustat in an extremely low quantity, which came as the biggest shock of my life. Throughout my whole career, the idea of cheating never even crossed my mind once, as it is totally against all the values I have been educated with. Facing such an unfair situation, I feel completely confused and betrayed. I will fight until the end to prove that I never knowingly took any prohibited substance and I have faith that, sooner or later, the truth will come out. It's not about the titles or money. It's about honor, and the love story I have developed with the game of tennis over the last 25 years."
Halep will now be required to challenge the outcome of her drug test in court. At the 2016 Australian Open, Sharapova tested positive for the cardiac medication meldonium. She was initially given a 2-year penalty, but the court of arbitration for sport reduced it to 15 months when she filed an appeal. The five-time grand slam winner was determined to prove not to have intended to break the rules. The tactic that Halep should obviously use in her case…