Chinese Tennis Star Peng Shuai Disappears From Face of Earth After Accusing State Official of Sexual Assault
Publication date: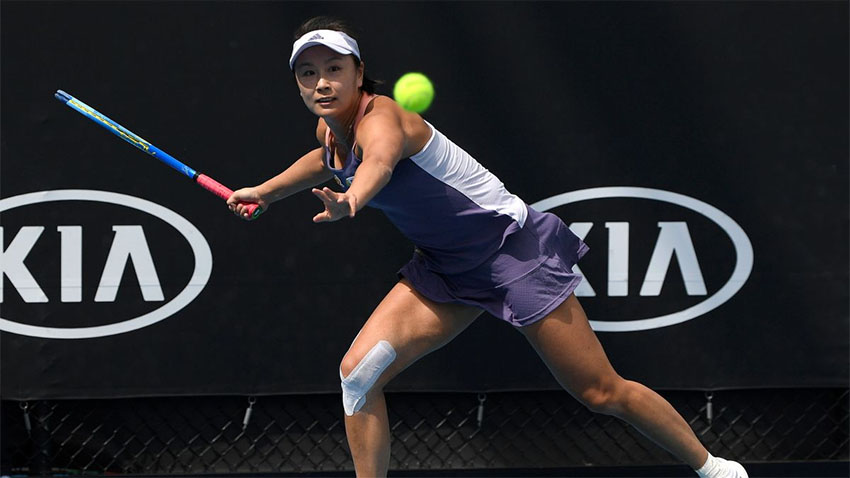 What happened to Peng Shuai, a famous Chinese female tennis player? Concerns are increasing for the athlete, who has not been seen since claiming in a statement to have been sexually attacked.
What caused this commotion? Peng accused China's former vice-premier, Zhang Gaoli, of sexually abusing her in a lengthy statement posted to Weibo, China's social media network that resembles Twitter, on November 2. Peng claimed she and the state official, now 75, had an on-again, off-again adulterous affair for several years. Zhang had ceased contacting Peng after rising through the Communist Party ranks, but he invited her to play tennis with him and his wife approximately three years ago, and then sexually abused her in his home, according to Peng.
Peng said in her Weibo post that she could not present any proof of her allegations, but she was determined to make them public. "Like an egg hitting a rock, or a moth to the flame, courting self-destruction, I'll tell the truth about you," wrote the 35-year-old athlete.
The charge marks the most serious level of the #MeToo movement (a social movement against sexual assault and harassment in which people make claims of sex crimes public established in the USA in 2006, beginning to spread virally on social media as a hashtag in early October 2017 after the mass sexual-abuse allegations against Harvey Weinstein were made public) in China. However, the movement has failed to gain traction due to censorship, an opaque court system, and social and political antagonism. There has never been a public complaint leveled against a senior Chinese Communist Party official, let alone against one as high-ranking as Zhang.
The Reaction from China
Peng's post was quickly removed by China's rigorous censors, but it went viral regardless. Censors cracked down as people tried to discuss and share the news, censoring phrases like "tennis", deactivating comments on Peng's profile, and erasing from China's Internet countless references to her and mentions of her.
As expected, there has been no response from the government. Zhang, a member of the Chinese Communist Party's top leadership body, the seven-member Politburo Standing Committee, has not reacted to media inquiries or made any public pronouncements. The spokeswoman for China's Ministry of Foreign Affairs, who deals with foreign media, has stated that the incident was not a diplomatic matter and that he was unaware of it.
The Reaction from the Tennis World
The Women's Tennis Association (WTA) has ordered a complete investigation into Peng's allegations through its chief executive Steve Simon. The Chinese Tennis Association (CTA) verbally provided assurances that Peng was safe and not under any physical threat, according to Simon, but no one from the WTA was able to reach her to check.
Simon made it apparent in multiple speeches and interviews that the WTA expected Peng's claims to be addressed, and that they were willing to risk lucrative access to the Chinese market to do so. Simon stated that charges of sexual assault against one of their players were an area where no compromise could be made and the issue was bigger than the business.
Tennis players, current and former, have also joined the effort, frequently using the hashtag #WhereIsPengShuai in their posts. Serena Williams, Naomi Osaka, Kim Clijsters, Martina Navratilova, and Stanislas Wawrinka were among the players who demanded an explanation. Gerard Piqué, the founder and head of the investment firm that co-runs the Davis Cup (the premier international team event contested annually between national teams), also made a post to his 20.1 million Instagram followers.
Peng Reportedly Sent an Email, but…
CGTN, China's state-run English-language broadcaster, said Peng had emailed Simon to say everything was great just as demands for answers were increasing. The station provided proof by tweeting a screenshot of a piece of text that it said was the email, saying "The news in that WTA press release, including the allegation of sexual assault, isn't true. I'm not missing, nor I'm unsafe. I've just been resting at home and everything is fine. Thank you again for caring about me."
The notion that the email came from Peng was disregarded by Simon and the WTA, who stated it merely added to his concerns: "I have a hard time believing that Peng Shuai actually wrote the email we received or believes what is being attributed to her."
There were other factors that contributed to the suspicion. The letter's phrasing was comparable to earlier coerced confessions by Chinese captives, the screenshot featured a visible cursor in the text, and it was never published in Chinese or anywhere else in the world.
Peng's Bio in Brief
Peng Shuai, 35, is one of China's most well-known athletes. She was the previous World No.1 in tennis doubles and reached No.14 in singles rankings, as well as winning two grand slams in women's doubles – at Wimbledon in 2013 and the French Open in 2014, the two tournaments that are an inseparable part of markets in tennis sections of the best mobile bookmakers. She also competed in the Olympics on several occasions.
And once again – Peng has been the subject of international suspicion and alarm since she made sexual assault charges against a top former government official earlier this month and has been missing since.