Barty, World # 1 in Women's Tennis, Announces Her Sudden Retirement at Age of 25
Publication date: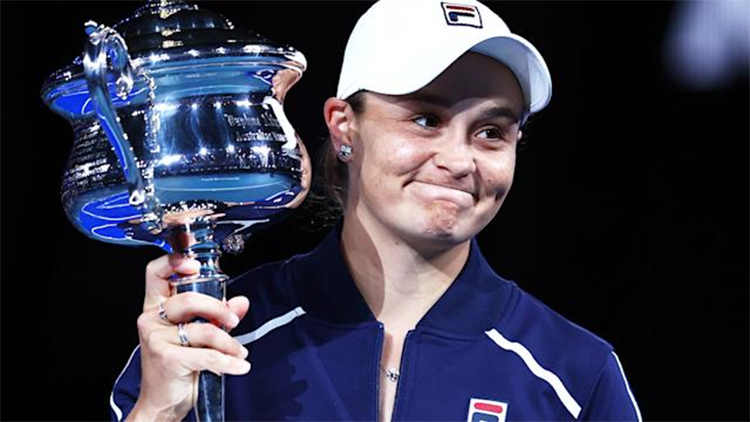 Ashleigh Barty stunned fans in her home country but across the world by revealing she'll retire from the sport. The 25-year-old Australian tennis player and three-time Grand Slam singles champion announced her retirement on social media earlier this week, employing the best mobile bookmakers to reshape the odds for the upcoming major tennis tournaments. She's presently rated number one in the world by the Women's Tennis Association (WTA).
Barty outlined her decision to retire after attaining her "true dream" of winning the Wimbledon Championships in July 2021 and the Australian Open in January in a 6-minute interview with her former doubles partner Casey Dellacqua. Barty explained that it's the ideal way to conclude her career, as she realizes she's ready to pursue other ambitions.
"I Knew Time Was Right"
She described it as exciting since there are so many things she wants to accomplish and goals she wants to pursue. The Australian athlete stated that she believes her purpose won't alter since she'll be able to contribute in a different way – more on the tennis side with younger girls and boys, as well as in the communities.
Following her retirement, Barty hopes to work with Australian youth players while also spending time with her family. The three-time major champion also discussed why she decided to call it a career.
"I knew the time was right. I had given absolutely everything that I could to this sport. And I knew it wouldn't be fair to my team and the people that have invested so much time and energy into my life to not be 100% committed for them. It's been a hell of a journey. I wouldn't change a thing and I certainly have no regrets."
Barty Leaves Possibility of Comeback Open
Barty's announcement comes less than two months after her Australian Open victory over Danielle Collins. She became the first Australian to win the home tournament in over four decades with her victory. In 1978, Chris O'Neil was the last Australian to triumph on home soil.
It was also Barty's third Grand Slam victory. She previously won the women's tournaments in the 2019 French Open and the Wimbledon Championships in 2021. In addition, Barty's current 114-week reign as No. 1 is the fourth-longest in the WTA Tour's history.
"I'll never, ever, ever stop loving tennis. It will always be a massive part of my life, but now I think it's important I get to enjoy the next phase of my life as Ash Barty the person, not Ash Barty the athlete," Barty said in her retirement announcement.
Barty did, however, leave the possibility of a comeback open, stating that one should never say never, but it's a long way off at this moment.